Multi-cultural wedding on Ithaca – Meranda & Frixos
Meranda & Frixos's multi-cultural wedding took place on Ithaca, bringing together guests from all corners of the globe to celebrate their wedding on the island that means so much to them and part of Frixos's heritage. With combined backgrounds from Greece, Cyprus, South Africa, the Caribbean and England this celebration proved to be both romantic and colourful.
The ceremony and reception venue, the Hani, with its' pale stone walls, spectacular views and sunsets proved to be the perfect place to host their celebrations.
For their ceremony Meranda choose a fitted dress with a deep 'V' detail at the back, fishtail hem, a sheer veil, and minimal jewelry. A surprise gift of a pair of Christian Louboutin's from Frixos completed her ceremony bridal look. Her elegant and minimal style was the perfect opposite to her show-stopping tropically influenced bouquet.
Meranda and her ten bridesmaids wore matching robes whilst getting ready, changing into forest green dresses which the bridesmaids styled individually, corsages with bird of paradise worn on their wrists along with gold headbands, their gifts from Meranda.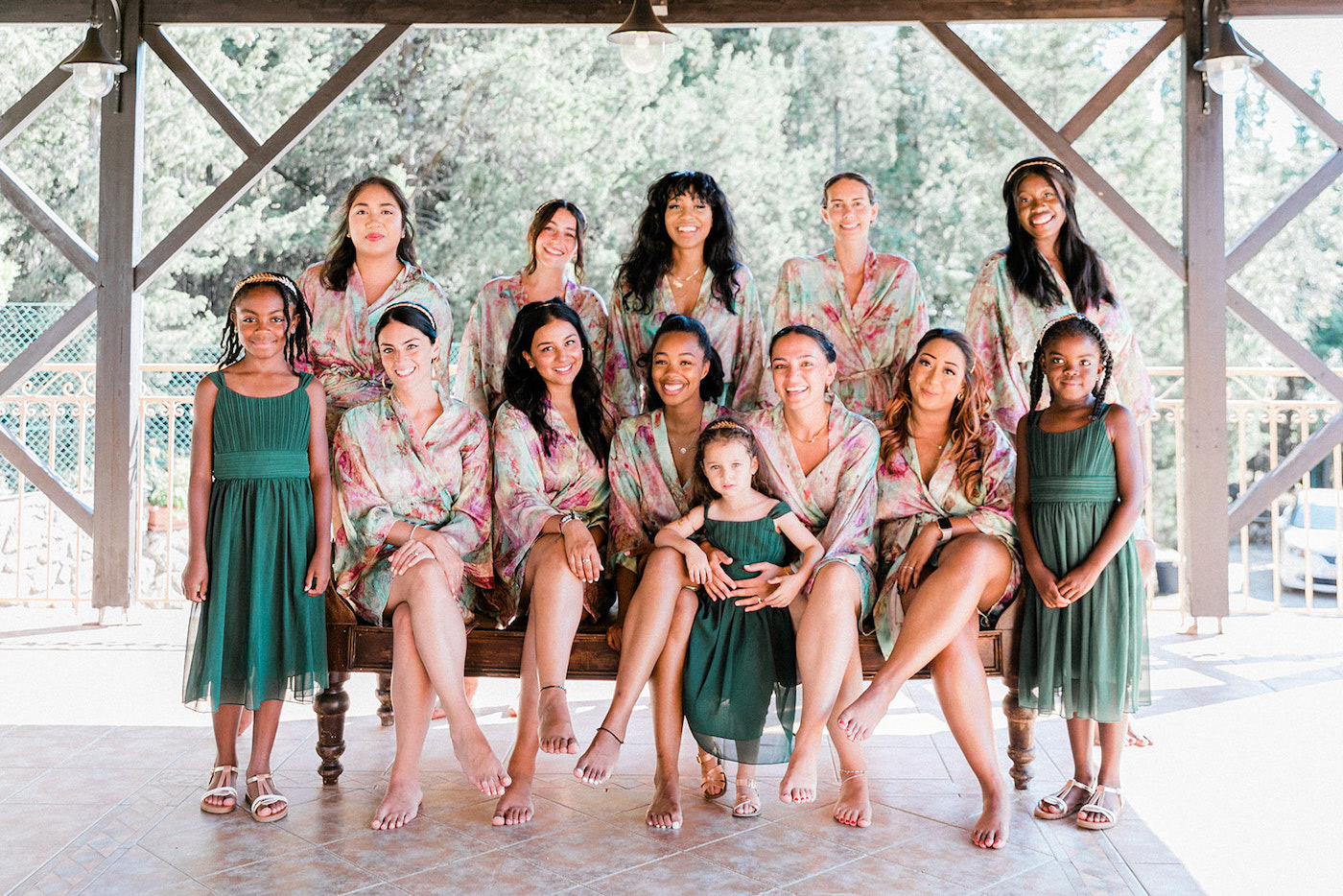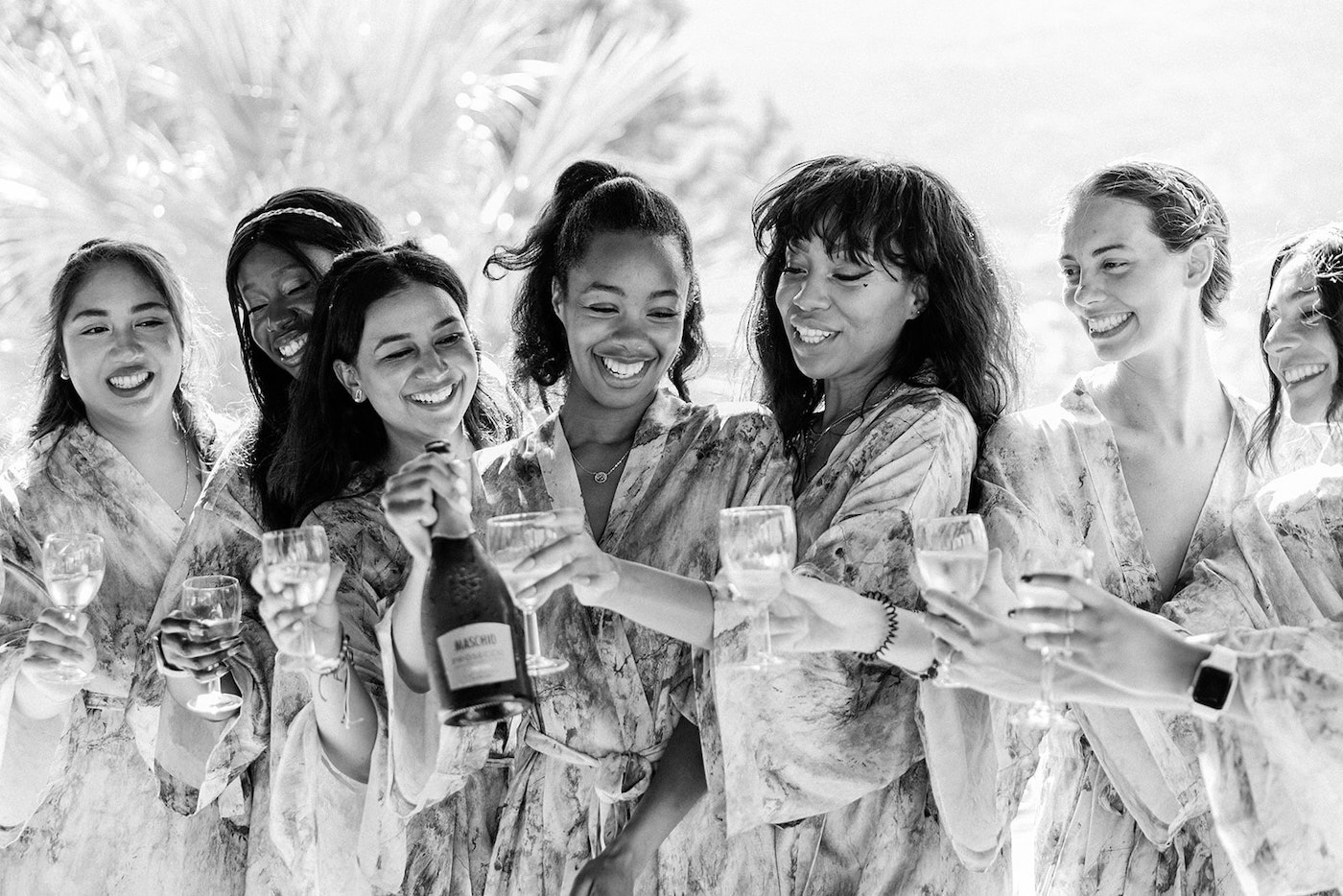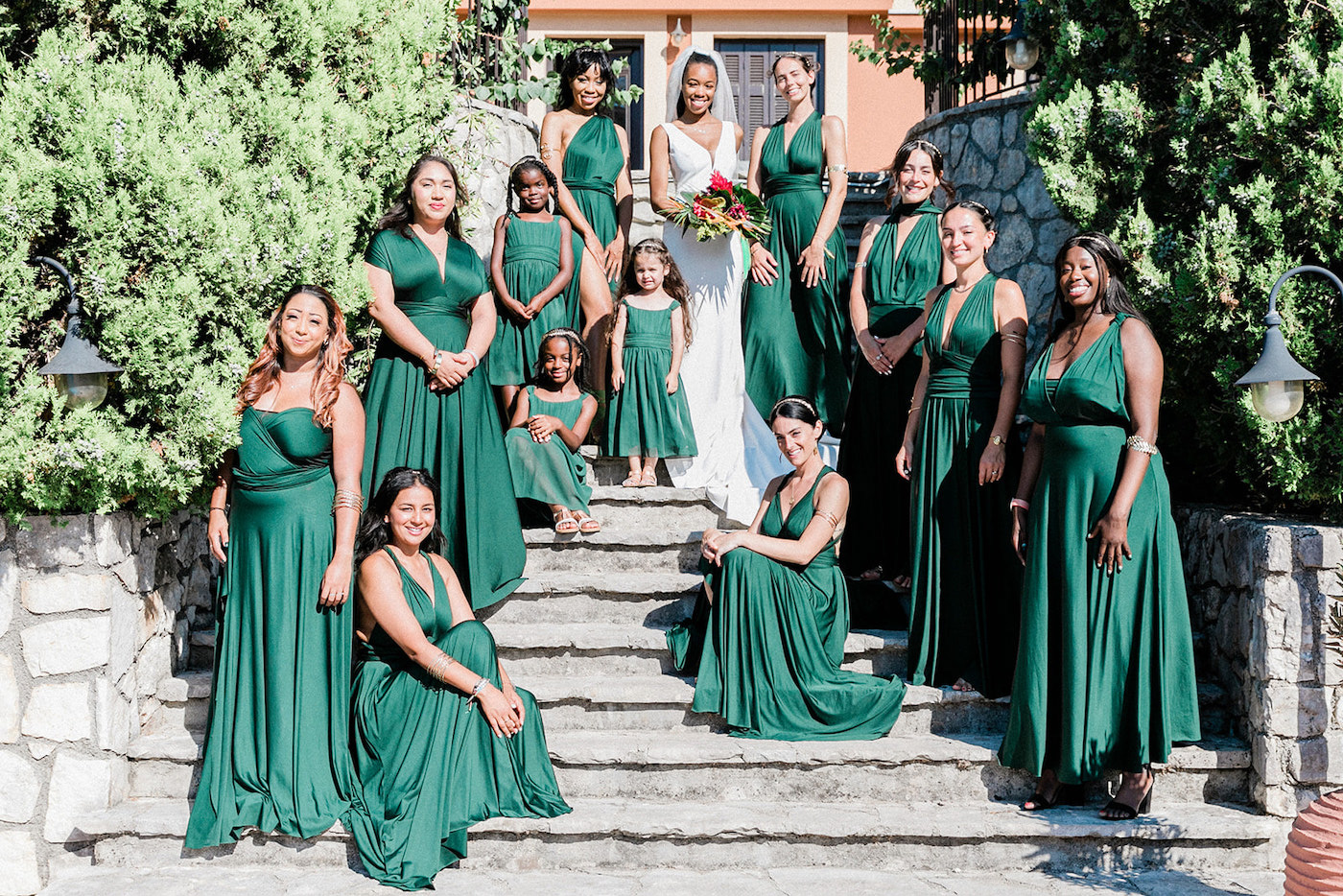 Frixos with his eleven groomsmen kept their look neutral wearing stone coloured trousers, white shirts teamed with forest green braces matching the bridesmaids dresses. Frixos completed his look with a pale green jacket. Each groomsman had a boutonniere with a bird of paradise, complementing the bridesmaids corsages, with Frixos's boutonniere reflecting Meranda's exotic bouquet.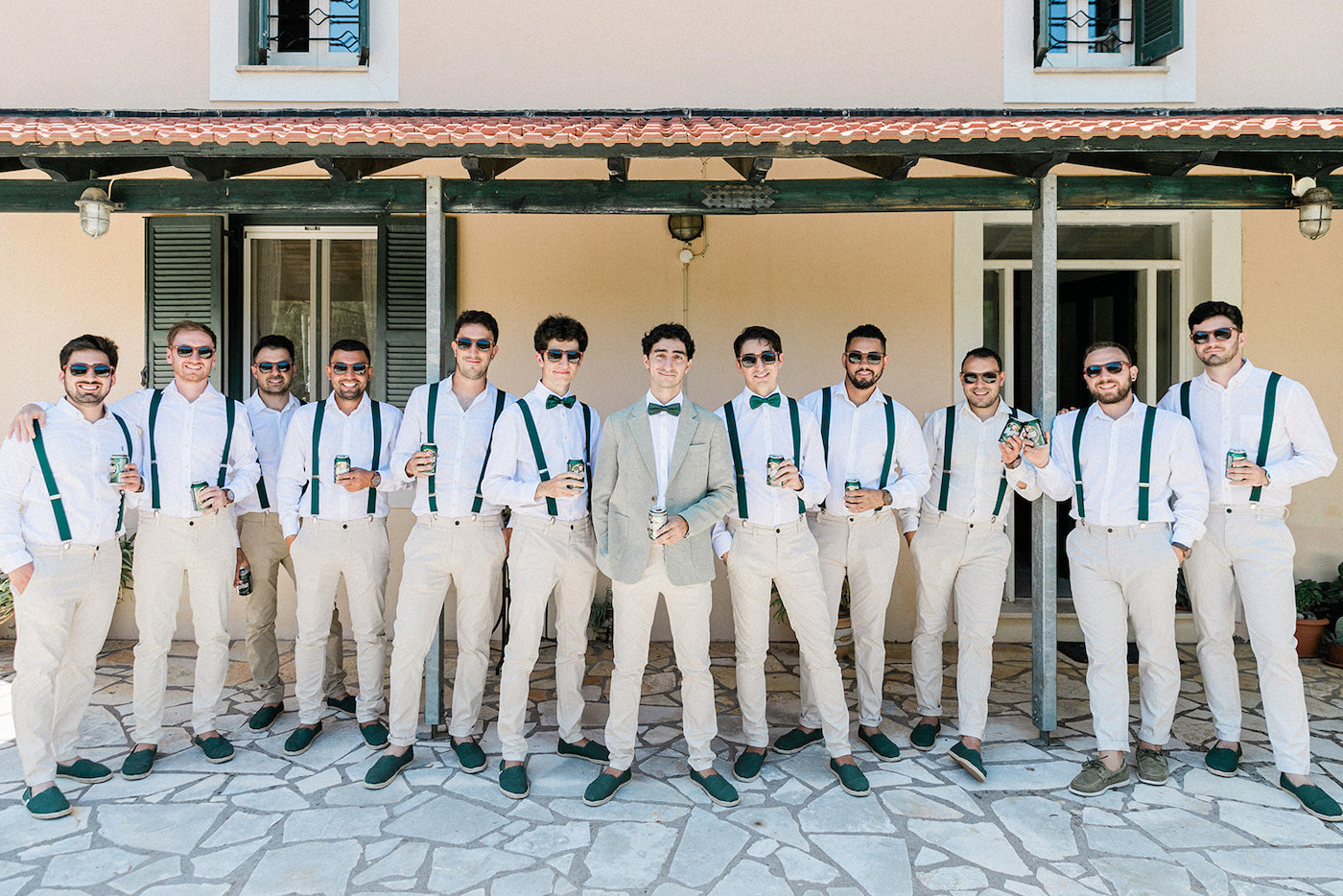 Frixos also, gave his groomsmen gifts as mementos for their part in his wedding day, individually engraved wooden boxes containing a hip flask, sunglasses and watch.
Their symbolic ceremony took place under a shady olive tree, where they exchanged their personalized vows.
After the ceremony, taking advantage of the spectacular views, Meranda and Frixos posed for some romantic photos with the setting sun in the background.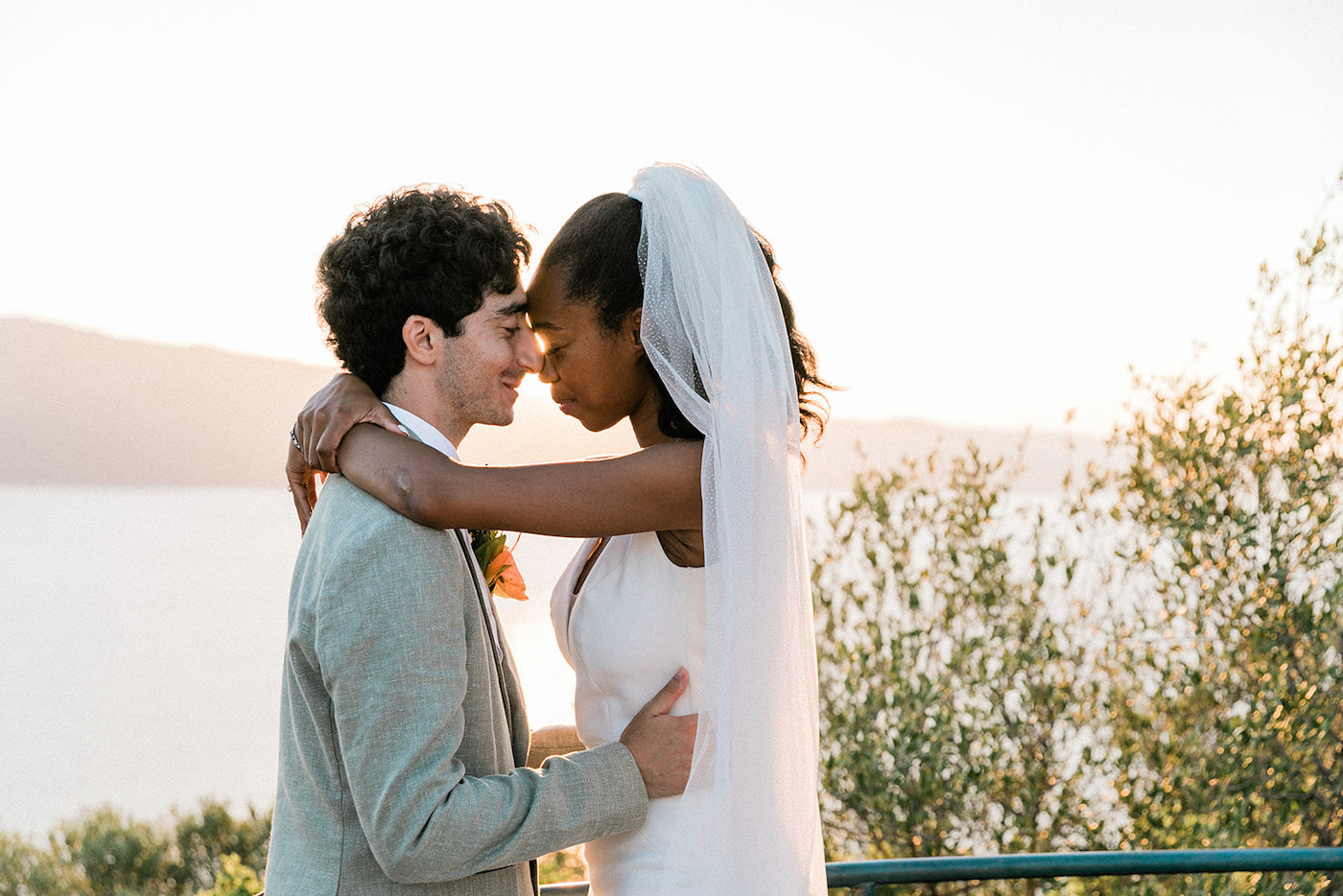 True to Greek tradition, the 'cutting of the cake' took place before the wedding breakfast, the classic two tiered double flavoured cake of course had its' own colourful twist.
The couples 150 guests located their seats from a seating plan suspended by brightly coloured ribbons in a near-by olive tree, tables decorated with pops of colour, a mixture of tropical leaves and some authentic Caribbean rum as wedding favours to enjoy a buffet offering traditional Greek dishes.
As the buffet was being enjoyed, guests were serenaded with live entertainment and regaled by Frixos's brothers speech.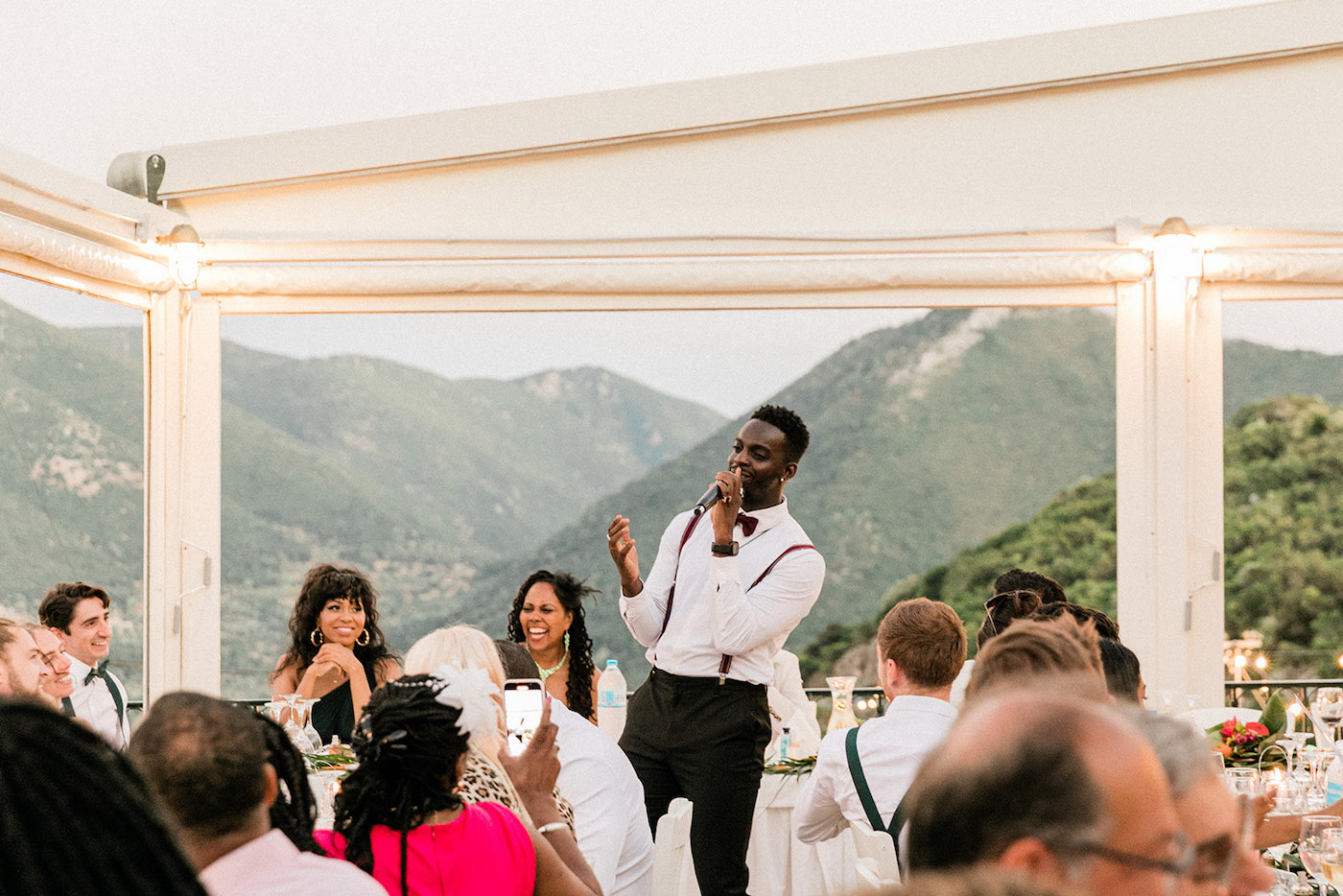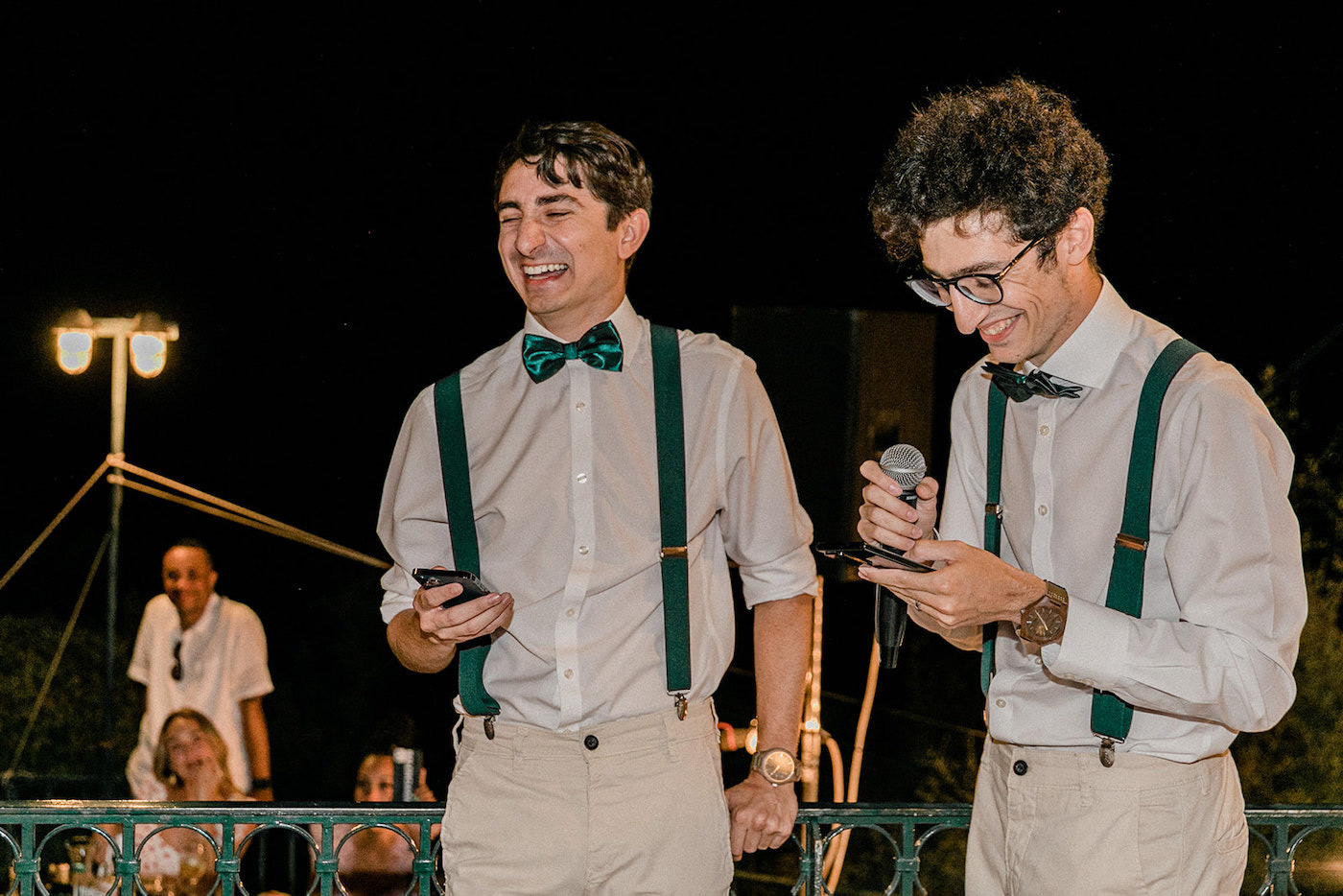 After a quick change of bridal dress, the party started with Meranda and Frixos's first dance, the evening had a true 'Greek festival' feel to it with a mixture of live Greek music, international DJ sets, performances of the well-known 'zeibekiko' dance accompanied by the smashing of plate.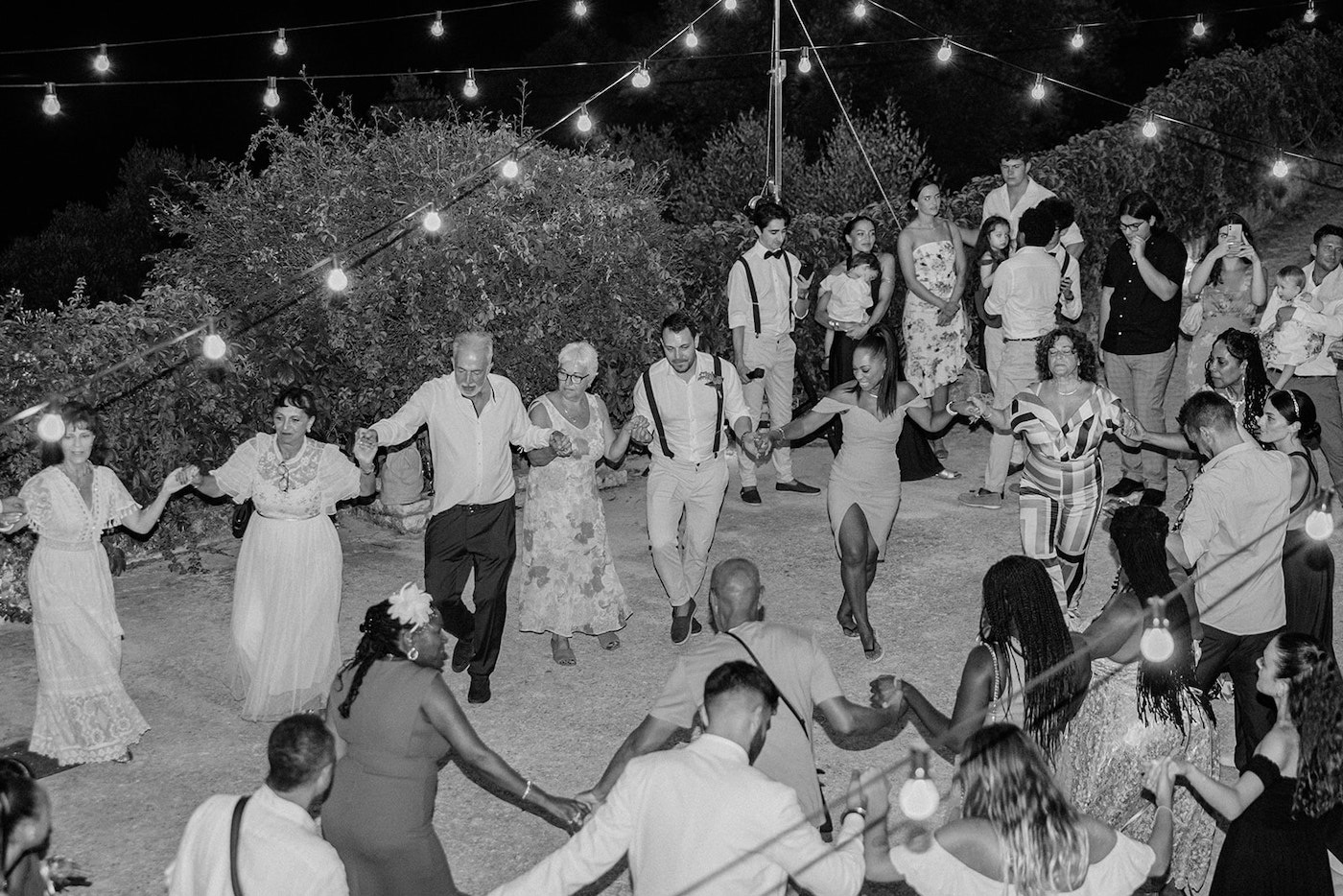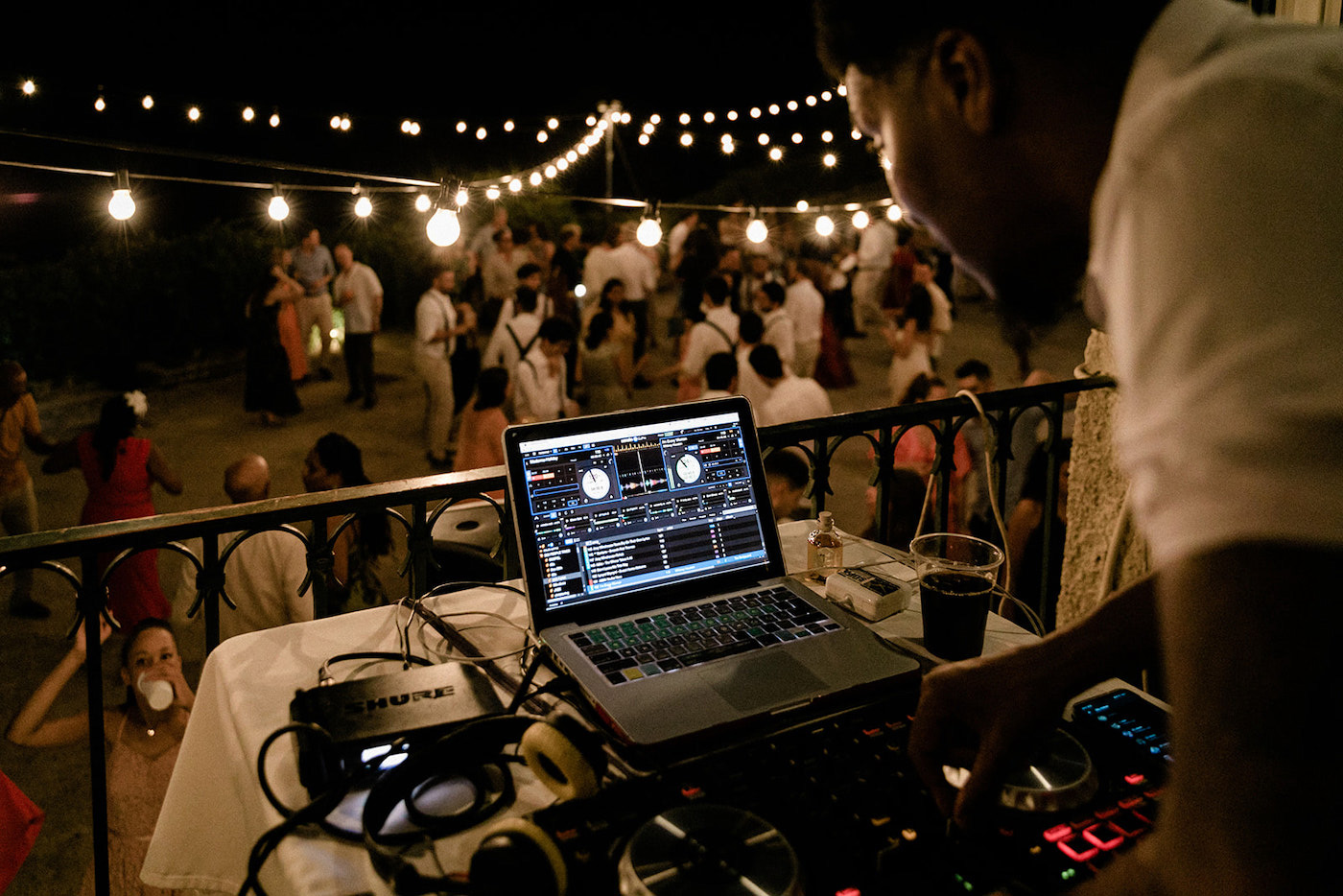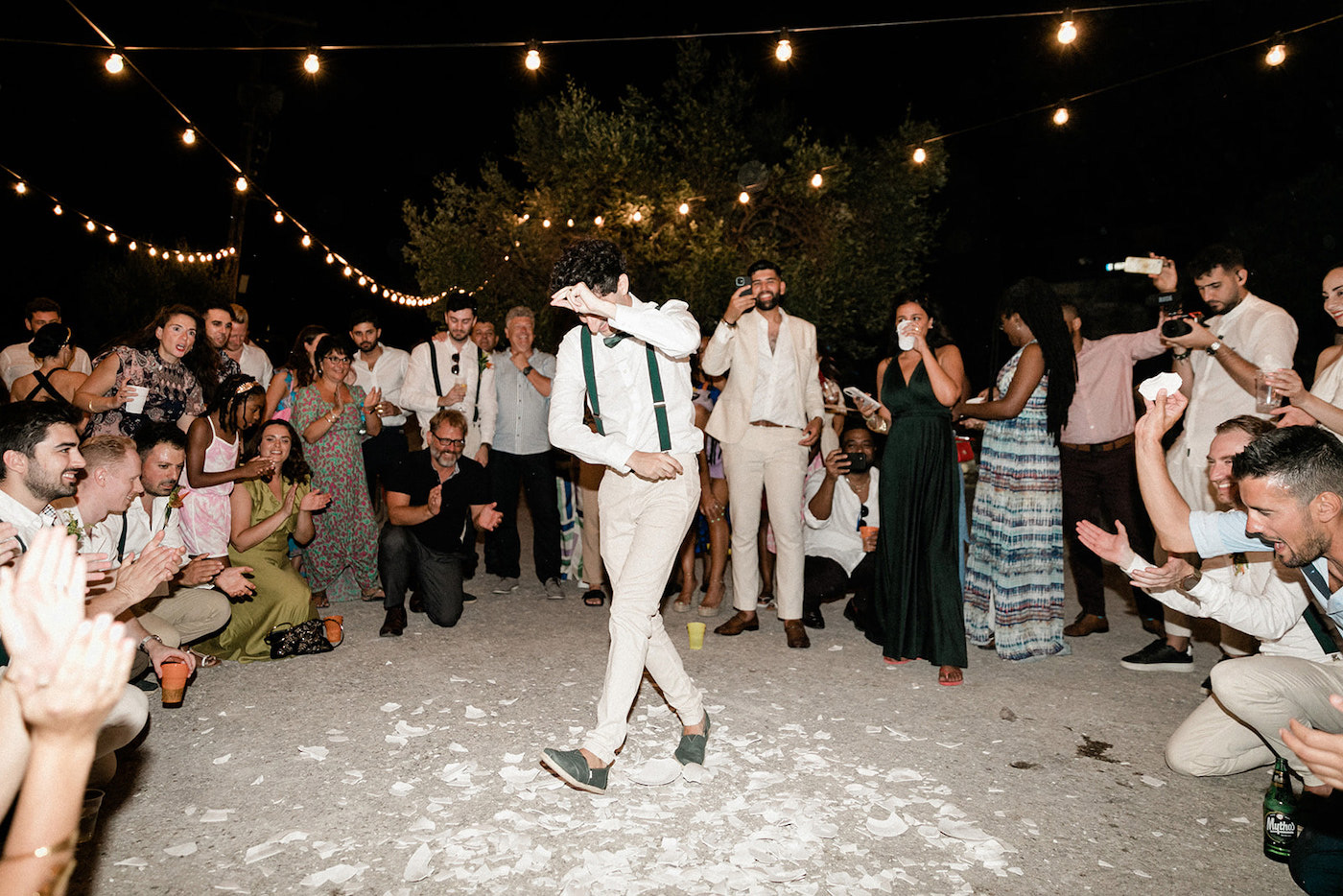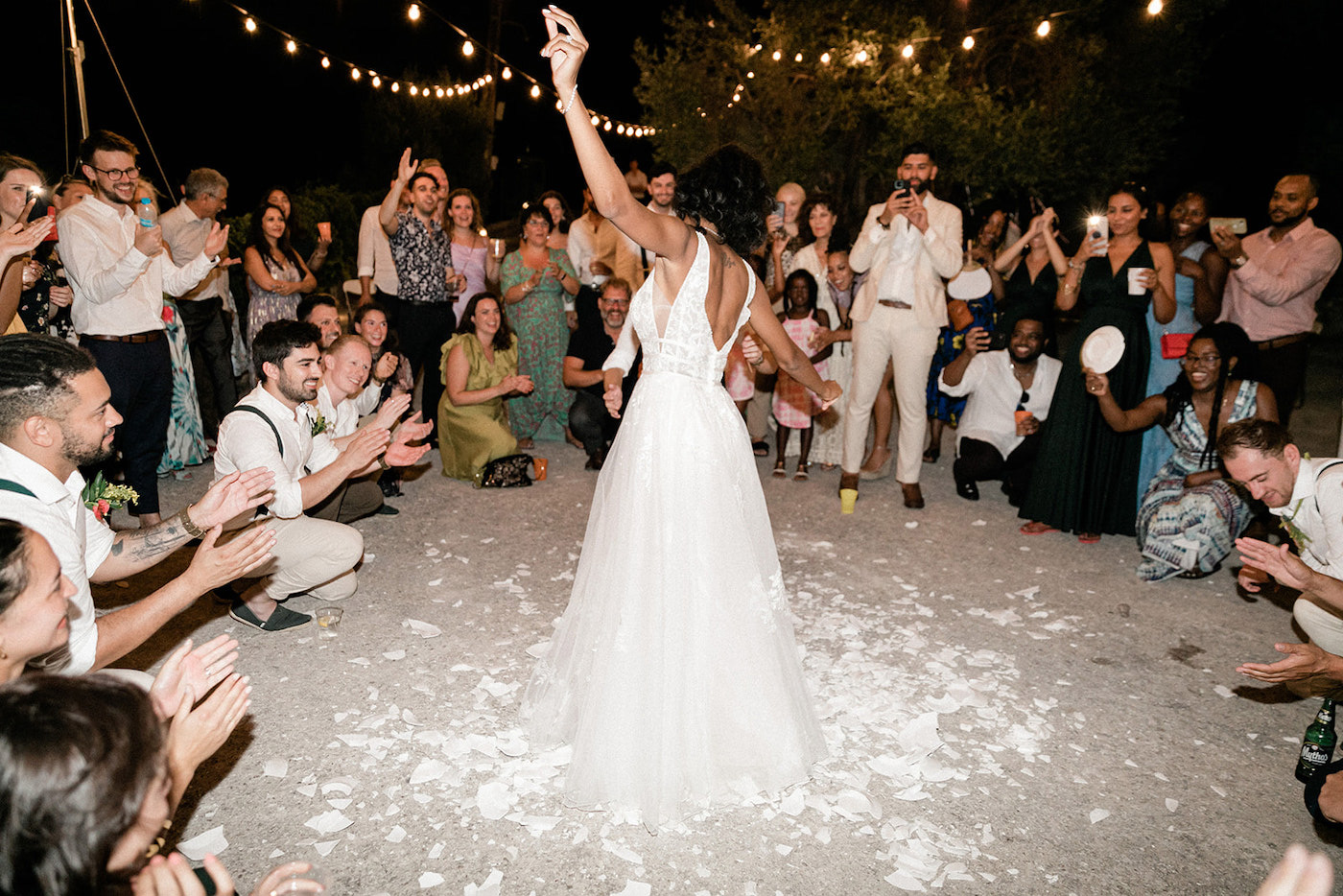 Best remembered from the wedding vows was Meranda's quote 'mazi ksekiname mia kenouria zoi – together we start a new life!'
If you've fallen in love with Ithaca and dream of starting your new life together on this beautiful island, contact me and together we will make it happen.